The utility of 3D printing in medical industry has gone up several notches in the last few years as additive manufacturing technologies offer solutions to doctors and other medical workers in their efforts to save and improve more and more lives. From the creation of highly specialized surgical and diagnostic tools to custom-made prosthetics, 3D printing for medical services is carving out new niches every day.
3D-printed Prosthetics
Additive manufacturing technologies are making it possible to 3D print prosthetics, customized casts and implants that are adaptable to any type of patient. The ramifications of this are beyond positive for those with special needs, such as amputees, who now have a chance at leading a normal life again.
Not only this, 3D printing services cost much less than a traditional prosthesis. The latter is also disadvantageous as it cannot guarantee adaptability. Thanks to 3D scanning and 3D modeling, prosthetics made using 3D print technologies can easily adapt to patient morphology, considering their habits and their disability.
Using 3D Printing Services to Reconstruct Bodies ​
Another area of medicine that is hoping to take advantage of the innovations of 3D print services online is that of bone reconstruction. For example, one of the parts of the human body this has already been tested in is reconstruction of the jaw. Then, there are 3D-printed knees which come in to variations, viz. 3D-printed synthetic cartilage for knee replacement and knee realignment with the help of 3D printing.
3D-printed Organs
This is an area of research that holds a lot of promise. It is indeed possible to 3D print biocompatible devices that mimic the workings of living organs. It could provide a realistic and long-term solution to the desperate lack of organ donors around the world.
The Impact of 3D Printing in the Dental Industry
As the cost of 3D printing continues to become more affordable, and the process of manufacturing becomes less and less, the world of dentistry is accepting the varied solutions on offer. Right from 3D-printed braces to 3D printed dentures and crowns, dentists can now solve the issues their patients face faster than ever before.
It practically eliminates the need for making expensive dental moulds as the dentist can be trained to 3D print the implant themselves! This will save precious time, effort and money for both doctor and patient.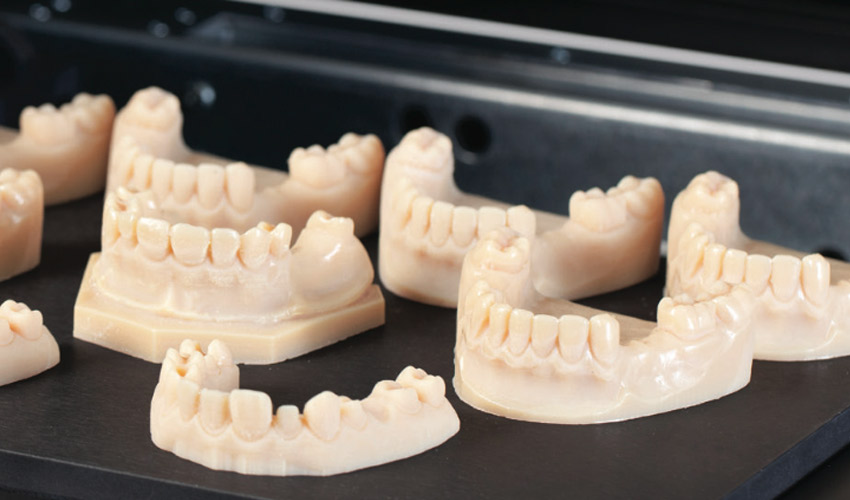 3D Printing to Help Medical Training More Hands-on
Conducting medical training with the help of 3D printing is becoming rather commonplace. For example, right before a complicated surgery, a doctor along with his/ her medical team can review and train themselves with the help of 3D anatomical models.
There are examples of many doctors opting to use CT scans to create and view 3D models of different parts of the body, such as the heart, to prepare themselves more thoroughly before a surgery. It can save valuable time inside the operation theatre.
Reduced Expenses and Wait Time
Experts are now 3D printing medical and lab equipment using PLA 3D printing services. The parts of the equipment can be 3D-printed, thereby reducing both costs and time spent on waiting for a new medical device from an external source. This can drastically solve issues of accessibility and affordability especially for areas in the country that are remote and hard to reach.
Bioprinting: A Further Advancement in 3D Printing
Bioprinting is one of the new waves of innovations in the world of 3D printing. In this process, instead of using plastic or metal to carry out 3D printing, a bioprinter is employed. Using a pipette, guided by a computer, this sophisticated piece of equipment creates layers of living cells (bio ink), one on top of another.
The end result of this layering is the creation of artificial living tissue under laboratory conditions. They are referred to as organoids and are very useful for the purpose of medical research, given their nature of mimicking real organs. They can also be tested as relatively inexpensive alternatives to human organ transplants.
3D-printed Surgical Instruments
Precise and sterile surgical instruments can be easily 3D printed. These include such critical tools such as forceps, haemostats, scalpel handles, clamps, etc. the smallness of the tools, thus created, enable them to operate even in the tiniest of areas of the human body, with minimum invasion. The production costs of these 3D-printed instruments are also significantly lower than their conventional counterparts.
The Verdict
3D printing is making almost anything and everything possible in healthcare and medical services. Using metal or plastic 3D print technologies, it is now possible to produce medical equipment, including diagnostic devices and surgical instruments, 3D anatomical models for better training, or simply for improving daily work.
Materials like Nylon PA12 and technologies like Selective Laser Sintering, guarantee precision and accuracy of parts. In other words, 3D printing is empowering medical workers to make human life even more fruitful and better than ever before.