The Federal Bank is one of India's largest private sector banks. The Bank headquarters are located in Aluva, Kochi. Mr KP Hormis founded the bank in 1931. In India, the bank is a forerunner among conventional banks in terms of leveraging technology to boost operations.
Mobile Banking, Mutual Fund goods, Cash Management Services, merchant banking services, insurance, and Federal Bank Net Banking are just some of the services that Federal Bank provides to its clients. Federal Net is a federal bank initiative aimed at providing virtual banking services 24 hours a day, seven days a week. Banking customers can use Federal Bank Net to access their accounts and conduct all banking transactions without delay.
What is FEDERAL BANK NET BANKING?
In India, Federal Bank is a well-known bank. Fednet provides both retail and business bank clients Net Banking / Online Banking services. Federal Bank customers can use facilities such as fund transfer, payment services, apply for a new debit/credit card, open a new FD/RD account, book fares, and more without charging any extra fees as long as they have a connection to the internet and their phone number is registered with the Federal bank. Customers who register with Federal Bank Internet Banking may perform money transfers from the convenience of their homes or offices.
How to Register for a Federal Bank Account Online Banking (Net Banking)?
To use Federal Bank Internet Banking Services, you must first complete the Registration Process. You may not need to go to a branch to register with Federal Bank Online Banking. Online registration is available via the bank's website. For registration, follow the instructions outlined below.
You can visit Federal Bank's official Internet Banking Website can be found here. (www.fednetbank.com) and choose "New Consumer" from the drop-down menu.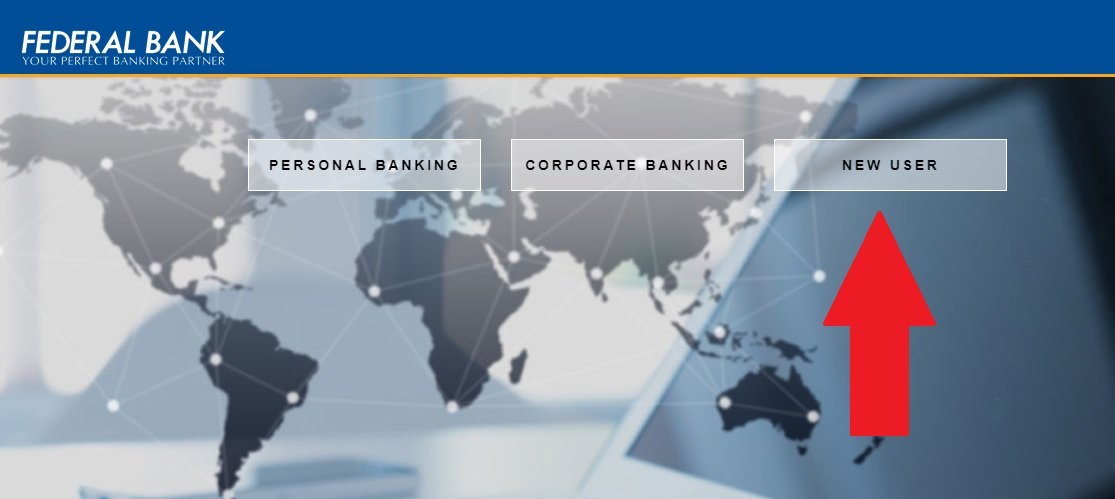 When you click on NEW USER, a POP-UP Window will appear, prompting you to make a selection (Click Here to Register online )
Now you must choose SINGLE and press the Continue button.

Now you must enter your 14-digit Account number as well as the authentication code, and then press the Continue button.

You can now get an OTP on your registered phone number after you have submitted your bank details. Click Continue after entering the OPT.
You must generate a new User ID for your Fednet account on the next tab. Tap on Check Availability after entering the User name.
Now you must enter your Federal Bank Internet Banking Account Address. Using a strong password that includes letters, numbers, and symbols. Now push the Send button.
You must select the facility you need on the following page. You have the choice of picking either 'View and Transact' or 'View Only.'
Now press Send after choosing "I want Transactions service."
Enter your debit card information, such as the card number, expiration date, and ATM PIN, and then press Send.
You'll now be asked to type a Transactions Password.
Your registered cellphone number will now generate an OTP. To complete the registration process, verify the OTP.
How to Federal bank net banking login?
The Federal Bank Net Banking Login Process is Straightforward and Straightforward. You could now easily obtain your account using your user ID and password after completing your Federal Bank Internet Banking registration. In addition, the measures for logging into Federal Bank Net Banking are listed below.
Visit the Federal Bank's official Net Banking website. FedNet Bank (www.fednetbank.com) is a financial institution based in the United States.
Select Personal Banking when you're a Personal Banking customer with a Savings Account. Choose corporate Banking if you are a business with a current account. Personal Banking is the best option for me because I have a savings account.
On the next page, enter your Login Credentials (User ID and Password) and press the Login Button.
After completing the above steps, you will be able to use your federal Bank Net Banking account 24 hours a day, 7 days a week. Be sure to type your password using the virtual keyboard when logging in.
Advantages of Federal Bank Net Banking:
The so here are the key FedNet advantages and features:
You can move money between your own accounts.
You won't have to do with the hassles of Demand Drafts or checks.
IMPS is a method for transferring funds.
Recurring Deposits may be invested in from the convenience of the homes and offices.
Directly and indirectly taxes can be charged electronically, and you'll get a receipt right away.
Requests for telebanking may be made.
Internet shopping can be done in a convenient and secure way.
Funds may be moved to another Federal Bank account or to an account with a non-federal bank.
You will quickly recharge your DTH or mobile phone.
Without any hassle and expense, cash certificates or Fixed Deposits may be opened electronically.
The repayment of a loan is easy.
Mini statements are available to use online.
Reset Your Federal Bank Internet Banking Password? 
There are times where we lose our password or need to change it for security reasons. Changing your password in Online Banking is a breeze. Follow the instructions in the step-by-step guide below.
First of all Go to the Federal Bank Net Banking Page on their official website – (www.fednetbank.com)
Select the Forgot Password option on the Personal Banking Tab.
Enter information such as your User ID, ATM PIN, card expiration date, and authentication code.
You must now create a new password. Both your Purchases Password and your Login Password must be entered.
How does a client get in touch with the Support Desk?
Customers can conveniently reach the assistance desk through dialing the toll-free number 18004251199 or through accessing the company's official website, where they can also get a resolution via the mailing method.
What is the best way to get a copy of my Federal Bank home loan statement online?
By signing into the online portals and selecting the 'Home loan provisional certificate' choice under the enquiries tab, you can receive your Federal Bank home loan statement.
Conclusion:
Customers of Federal Bank can use the facility without having to access the bank for manual transactions. FedNet has a variety of features to meet the banking needs of its users. If you have any questions comment below section.